Get the 
highest quality

 vector art conversion and graphic design services thanks to our qualified graphic design team and our exclusive tools
To convert your images, logos or photos into vector formats we offer a simple, fast and intuitive interface
Chat directly with your vector graphic designer through our instant messenger.
Send us your vector art conversion request in less than 30 seconds.
Chat live (in English) with the graphic designer who is in charge of your project.
Receive the finished piece of vector format file in less than 5 hours.
For further changes, just make a request for vector drawing and it's done.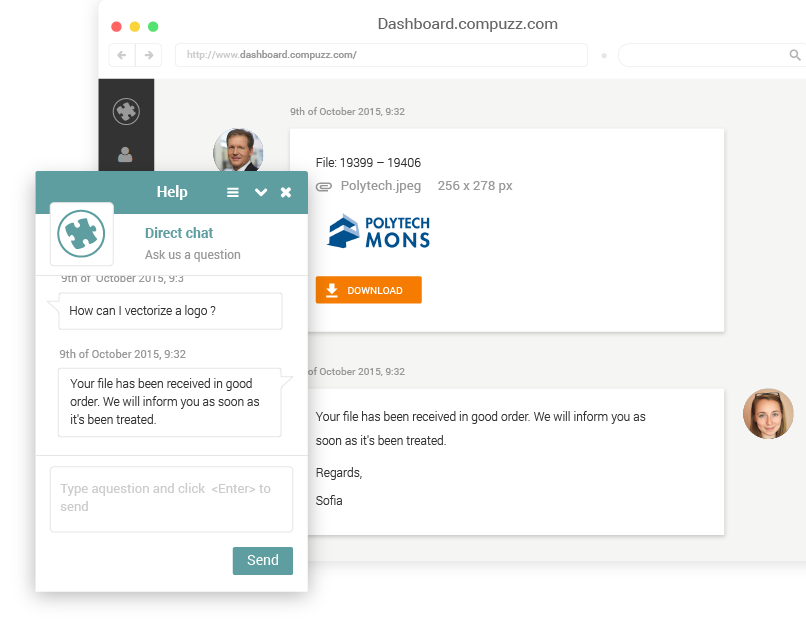 Clients really like our vector graphics pre-press work
Here's what they think about COMPUZZ vector art conversion services:
I couldn't have asked for more. The file vectorization service has accelerated our order process and reduced our cost of vector graphics. We're extremely satisfied with the vector services offered by Compuzz.
Cor van Engelenhoven
We were looking for a graphic and vector drawing service that could help us manage the file to vector format process with a quick turnaround and at a fixed price of vector drawing. We found the perfect solution with Compuzz.
Charles Nusse
These companies love our vector graphics services
Create your own account
Get your first standard vector service for FREE*
(*) Offer is available for business customers only